Historic, Luxurious & Exclusive
Killochan Castle has been home to the Cathcart family since its origins. Their love for the house is reflected in their ongoing commitment to its care. Preserving the architecture, restoring its unique and lavishly styled interiors and managing the exquisite gardens and grounds. Welcoming guests for many years to come.
As you approach the Castle take a moment to capture its splendour and consider the fascinating stories it beholds, steeped in 700 years of dramatic Scottish history. Step into a hidden world of grandeur and opulence in the most relaxing of settings.
The Great Hall
At the heart of the Castle is the magnificent Great Hall. The pièce de resistance, this spectacular space leaves an unforgettable memory on all who set foot in it. Graced with lavish antique furniture and an exquisite chandelier over 2 metres in length, the Great Hall would rival that similar to any European palace.
Above the original restored grand fireplace sits the Cathcart of Carleton coat of arms, a nod to the family stronghold. An incredible art collection adorns the walls, and the hand-painted ceiling mural is an extraordinary piece of work depicting the 1513 battle of Flodden. A savage defeat by English forces, in which three members of the Cathcart clan died in battle; the 3rd Lord of Cathcart Alan, and his two brothers Robert and John.
The Great Hall has access to two turret staircases. One leads to the service quarters whilst the other leads to a master bedroom above. Perfect for guests who may be planning a reveal or surprise appearance.
The Great Hall is a beautiful space for a gathering of family, friends or colleagues. With ample space to mingle and relax in the comfortable and sumptuous furnishings, it's perfectly suited to host a champagne reception, whisky tasting or afternoon tea.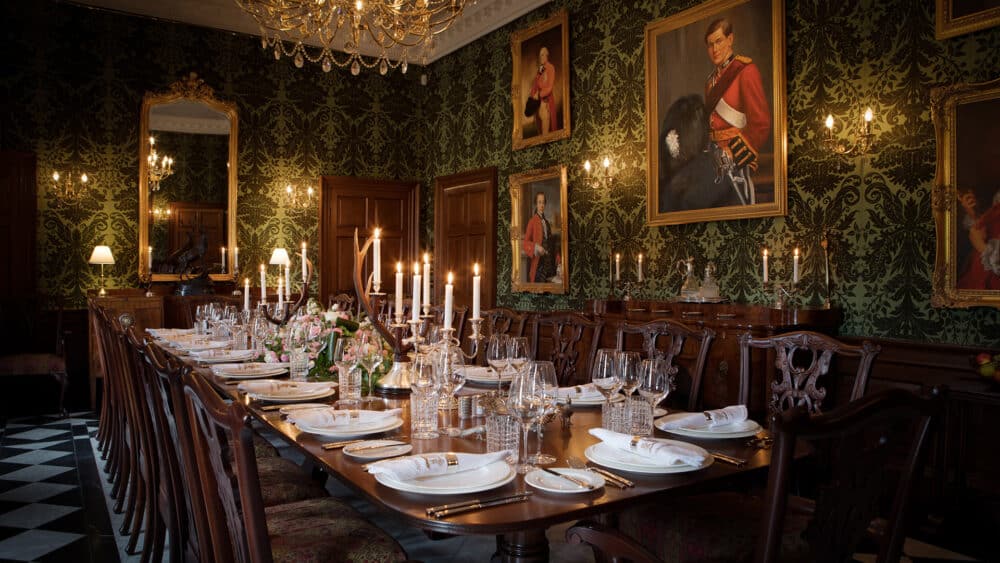 The Dining Room
The Dining Room exudes decadence and has played host to many feasts and celebrations. The rich dark colour palette is beautifully paired with opulent furnishings, perfectly complimented by the spectacular trompe d'oil style ceiling. The room has retained every bit of its medieval influence and charm.
Follow the flickering lights as they dance around the room, reflecting the glistening chandelier and treasured candelabras.  The impressive dining table is set with a beautiful display of antique silverware, sourced from the finest silver traders.
We have a passion for exceptional food and wine and use as much local and seasonal produce as possible. We want our guests to get a real taste of the west of Scotland and all it can offer. Our private chefs have been carefully chosen for their culinary flare and creativity, hand picked from a selection of Britain's finest hotels and restaurants.
The Snug
As you wander through Killochan Castle keep your eyes peeled for little doors and secret walls. You never know what they might reveal. Our Snug is hidden away in a quiet corner of the Castle, furnished with simplicity offering soft lighting, cosy armchairs and a relaxing ambience.
The perfect retreat when you need some quiet time, or want to reconnect with  friends and family. Sharing stories long into the night over a whisky or fine wine is a favourite with our guests.
TV Room
Our TV room offers home-from-home comforts with sumptuous sofas and luxurious furnishings, creating a haven of peace and relaxation. Perfect after a day in the great Ayrshire countryside, leave your boots at the door and kick-back with your favourite people.
If you like a slice of friendly competition our selection of board games will keep you entertained for hours. Feel free to bring your favourite board games too, there's ample space for an evening of family trivia or chess tournaments.
Cinema Room
Having front row cinema seats in the comfort of your own luxury Castle is a rather special experience and definitely one for the memory books. Scottish weather can be unpredictable at times and it's useful to have a wet weather alternative planned. What better way to spend a soggy afternoon or evening than a full,  uninterrupted cinematic experience without having to step foot outside.
Fill up your popcorn, relax into the lounge seats and immerse yourself in the silver screen. Total bliss.
Happy Hour Deck
Picture a Scottish Castle, a fairytale fortress with turrets and the Cathcart coat of arms swaying in the wind. Now imagine climbing up the spiral staircase and stepping out onto the deck of the turret. The views don't get better than this. Sensational.
Remember to take your camera, the vistas stretch out towards the town of Girvan and the Firth of Clyde. Nature lovers – bring your binoculars as you may catch a glimpse of deer or an eagle, known to appear in the neighbouring woodlands.
Castle Grounds
Killochan Castle is nestled in 143 acres of private woodlands and grounds. Abundant in lush green forests, ancient woodlands, a fast flowing river, small streams and beautifully manicured lawns – the epitome of mother nature's finest.
Guests enjoy fishing and stalking experiences within the grounds of the estate, with the option of having ghillies and deerstalker accompaniments if required. Hiking routes are plentiful, and there are custom built mountain bike trails for guests who prefer adventuring on two wheels.
Some of the land is still farmed, so expect to see livestock in surrounding fields as well as wheat production in other areas.  Regardless of where you look the land is plentiful in flora and fauna and the air is crisp and fresh. So bring your outdoor gear, get off the beaten track, adventure and explore.